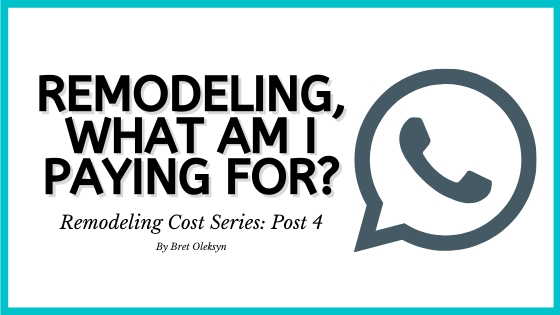 This is part 4 of a multi-part blog post regarding remodeling costs.  Prior to reading this post, we encourage you to read the previous posts to understand what is involved in the process of remodeling and the reasons for some of the expenses that you may not consider.
Following the Pre-Construction tasks, the remodel is ready to begin construction phase. It would be logical for a customer to believe that the "behind the scenes" work is complete and thus, all that is left to pay for is just the Materials & Labor. However, this is far from the truth.
At this point there are logistical details such as placing purchase orders for all special order materials and items. There are trade partners who need to be contacted and placed in line for their particular aspect of your project. There is a sequencing schedule that needs to be built and sent out for commitments and so on.
Perhaps, the most important "behind the scenes" work that must be completed once everything has been agreed to and a contract has been signed, is a building permit. In order to get a building permit, additional "line drawings" have to be created and accompany the building permit application. Line drawings are more blueprint style drawings with only lines which represent the boundaries representing sizes, locations, heights, widths, etc.. Line drawings also have components of your existing home and/or the alterations/changes/additions to your home. These drawing also contain dimensions, product legends and future details to assure that both the building department and the carpenters all know exactly how your project will go together properly and safely.
Building permits are only the beginning. To properly deliver a quality remodeling experience there are a lot of variables and things that need to occur during the construction phase. Product procurement, adjusting for weather, adjusting for customer changes, an illness of a trade partners requiring rescheduling, etc. all greatly impact the project. In a business where the customer may be living without their kitchen for a time, it is crucial to be good at adjusting to these to ensure that we are delivering the best turnaround possible. The individuals behind the scenes make these adjustments to ensure a smooth-running project. Their coordination and communication with all parties involved, including the customer is key.
The point of this blog is to give the average would-be customer a glimpse into some of what goes on in order to make the normal varieties of remodeling projects from kitchens, to bathrooms, basement, additions and so on.  Obviously a strictly siding project, roofing project, painting or even new flooring can be considered "remodeling" but the industry refers to such as "home improvements".  When multiple trades and entities are involved, there is an extra level of service and detail required to live up to the slogan of a "Quality Remodeling Experience".
For information regarding typical pricing for your upcoming remodeling project, visit the following link: https://www.oddfellowscontracting.com/how-much/