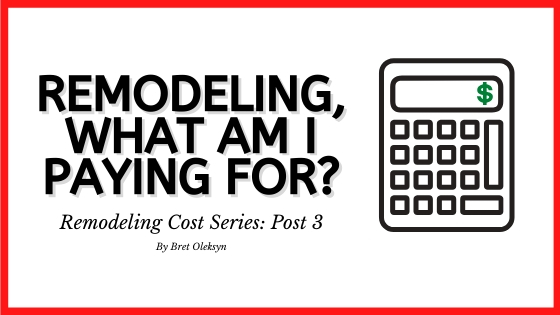 Post Discovery Process
Now that the discovery, initial design, and initial estimating processes are completed, it's time to have a meeting between you and the Remodeling entity to determine if the discovery processes and "mind meld" was a success. In other words, a meeting needs to take place to make sure that what you saw in your mind matches what the Remodeler provided in their 3-D modeling design concepts. Additionally, it is important to confirm that the a now "qualified" budget, matches, or closely matches, your hopeful cost expectations.
At this point of the design, many aspects of your project have been determined while are still to be decided. Portions of the project, including material selections and final design have only been addressed in a somewhat generalized fashion. The goal for the Remodeler is to now tie up all the loose ends. This involves identifying, qualifying and sorting out all of the particulars through a series of meetings both on and off site. Some of these meetings include material selection meetings that may take place at some of the supplier locations. Additionally, there will be much offline work, online work, phone calls, and conferencing with all relative parties to ensure that selections are coordinated, and all pricing is finalized.
During this phase, you should have at least 1-2 more meetings with the Designer in order to tweak the design work so that the finished remodel design renderings are exactly to your liking. As you make selections and report them to your Designer/Estimator, they will begin to show you the financial impact of actual selections compared to the proposed selection allowances which were a part of the initial budget report mentioned in Part 2.
Depending on the comfort level in decision making regarding selection of colors, textures, fixtures, etc.., the time of the designer/estimator involvement can vary during this phase. As a note, if you need design and material selection assistance, you will want to be sure that the remodeling entity that you are considering has adequate resources and knowledge in those areas.
In the early days of my career, we were very limited on the resources available to help our customers through the design and estimating phase. Everything was in person and drawn out by hand. Any changes required days or weeks to determine the impact and questions took much longer to determine a proper response. Today, this "pre-construction" process, is much more advanced, efficient and visually helpful. In that these pre-construction steps are critical to a successful and enjoyable remodeling project, true professionals come to know them as essential.
At the end of this "Pre-Contraction and Design Phase", and everything has been decided, one might be tempted to think that all that's left to be a part of the cost of the remodeling project is Material and Labor. Well, what if I told you that in the next blog, we'll discuss some additional time eating "behind the scenes" work that will still need to be performed on your behalf. Stay tuned…