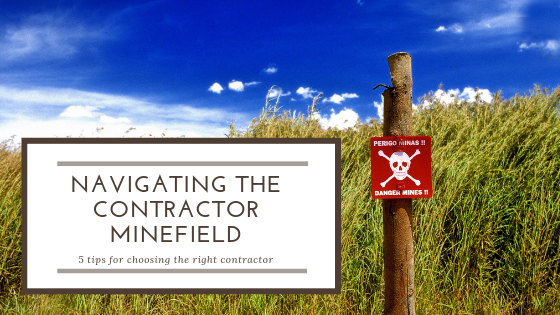 The journey of remodeling can be a tricky one. There are a lot of decisions that need to be made along your remodeling path. The first and possibly most important decision is your choice of a contractor. The contractor will be a significant part of the entire experience. The contractor's involvement in design, scheduling, communication, production, and warranty will shape your experience with your project. Not all contractors are equal, and you can save a lot of time and frustration by thinking about what type of experience you want to have before you start calling around for bids. The following are a few starter questions that you should ask yourself to determine what type of experience you want:
Do I need help with design?
Will I be hiring the least expensive bid I receive?
Do I want to oversee portions of the project, or do I want the contractor to handle everything?
How much communication do I need so that I can feel comfortable with the project?
When do I want to get started?
There are some other things to consider as well like contractor licenses, insurance, and the remodel process for the contractor. Knowing what you will want and need as your home is being worked on will give you a good first step in being able to choose who you want in your home.
Design Assistance
If you need help designing the space, there are a few options that you can consider. Not all contractors are equipped to provide professional design services. If the contractor does not provide design services, it may be worth your time and money to hire a professional designer. A professional designer may help make sure you get exactly what you are wanting in the newly renovated space. A professional designer can make sure that your dreams and wants will become a reality on the plan. Be aware that there is a cost for professional design work. Some contractors have professional designers on staff that will be able to provide those services as part of a "one stop shop". This can have the added benefit of possible improved cost and coordination between the design and construction aspects as they are all housed under one roof. One drawback can be that you may not have as many design options as you are subject to the design options of the in-house designer(s) of the design-build contractor.
Cost
If you are looking to receive multiple bids from different contractors, start by asking yourself the purpose of getting multiple bids. Typically, the reason is because you may be unaware of the costs that are involved so you want to make sure you are getting a fair and equitable price. People don't often get multiple bids when they go to shop for a gallon of milk for example because they are familiar with what it should cost. Starting by doing some research on costs for your area is a great way to have some proper expectations up front so that your time spent getting bids is more about what the contractor offers, and less about the unknowns of pricing.
The Remodeling Magazine's Cost Vs. Value report is a great way to see typical costs for many types of remodeling work that can be done. As you interview different contractors, ask them about their processes, how they handle things when (not if) things go wrong, and the services that they provide so that you can understand the reasons for the differences in price. This way, you end up with the contractor that suits your needs the best, even if they may cost more than the lowest bid.
Project Oversight
Before hiring a contractor, take some time to think through how much involvement you want to have during the remodeling process. Be up front with your contractor and discuss how you typically like to operate and discuss with them the way they like to operate to make sure you are both on the same page. You will hopefully be able to find a good balance that will allow you to achieve the level of involvement that you want, while still allowing the contractor to follow through with their processes and procedures to ensure a smooth project completion. You will likely find that most good contractors have developed a set system that they like to follow and the best way to stay involved is through high levels of communication.
Communication
I have found that good communication may be one of the most important aspects of a smooth and enjoyable project. While people are working in your home, you want to know what, when, and why things are happening. When you ask a question to your contractor, you want to feel comfortable and safe that your question will be given a proper answer and explanation. When something goes wrong, you want to feel calm knowing that your contractor has your best interest at heart and will resolve it without having to get into a fight about it. Good communication is built on trust. Part of the contractor selection process should be based on finding a contractor that you can trust. You can do this by reading reviews and asking questions to get a sense of how the contractor handle things.
Timing
If there is a required finish date for your project, make sure this is clearly communicated to the contractor up front to allow them the opportunity advise if this may be possible. Remodeling takes longer than you would likely expect. With design, material selections, contract meetings, material ordering, and the production phase, it can easily be at least a 5 month process depending on the time of year that you begin. This long process is another reason you want to make sure you like the people that you are going to be working with! Make sure you ask the contractors about their typical turn around time for a job. It can often be the case that larger contractors will have a better track record of completing jobs on time due to their ability to adjust to changes by switching around personnel as needed. The contractors process and ability to make money on the job is often dependent on their ability to get done quickly which is also in your best interest.
Contractor selection doesn't have to be as complicated or as scary as you might think. Doing a bit of research up front and understanding what you require to feel comfortable is a great start. It is okay to ask questions; you need to feel comfortable with your selection. Questions also will give the contractor the opportunity to expound on why they will be (or won't be) a good fit for your project. Start your project off right by selecting a contractor that will leave you with a great experience in addition to a great finished remodel.