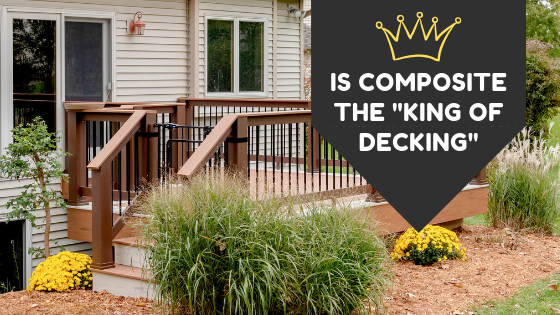 Because I am old enough to remember when pressure treated lumber first came on the scene, I have seen its climb as the greatest thing since concrete and then its fall as one of life's biggest pains in the neck. It didn't take long for the typical exterior wood attributes to come forth and people began to realize that although it didn't decay the way non-treated wood does, it nonetheless became unsightly, unstable and an annual maintenance ritual know as the early summer dread.
In certain regions, it may be less impactful, but in our Great Lakes State of Michigan, our temperatures and moisture conditions are ever changing and sometimes quite extreme. Consequently, it is no wonder why the industry became so enamored with a maintenance free replacement for wood in general.
I can still remember the first generations of composite decking material. It was sold as a maintenance free and lifetime product and it unfortunately did not live up to the hype. It took off like a flash and seemed as though nearly every building materials manufacture got on board with a product of their own. As fast as it ramped up, it began to lose its appeal when some of the inherent flaws became known. The expansion and contraction of this new material, regardless of who made it, caused unsightliness, loose boards, bouncy deck surfaces and ponding to edges of boards growing together which did not allow for any surface moisture drainage.
Fading, staining and discoloration added to the woes of this new material. It is now very easy to spot an early generation composite deck and see the problems.
From the beginning, Trex had a large market share which likely allowed them to weather the storm and continue research and development which gave them the opportunity to bring new and improved product offerings to the market. In some ways, Trex almost single handedly kept the composite market alive and sustainable.
Okay, enough of the history lesson. Currently there are only a few major players in the composite field, Trex, Timbertech, Azek, Evernew, Fiberon to name a few. Composite decking comes in several forms, ranging from solid PVC plastic, to solid composites using 100 percent recycled plastics, to products that blend plastics and natural wood or bamboo fibers. There are two types of manufacturing processes used: compression molding that creates solid planks, and extrusion processes that forms planks by pressing raw materials through shaping molds. Some synthetic/composite lumber is hollow, requiring end-caps to cover the ends of boards, while others are dense, solid boards that are cut and fitted in much the same fashion as ordinary lumber. It's important to note that although most composite lumber is denser and heavier than natural wood lumber, it does not have the structural strength of wood, and is typically used only for surface decking or visible railing parts, not for structural components.
With the current number of choices, one might ask, which is best? As you may have guessed, there is no easy answer for that question. The type of design, function and size of your deck may be a big part of answering that very question. A process of elimination may very well be the best practice for selection. Based on the moisture conditions, the activities and climate of your deck, some of the product offerings of the manufacturers will likely eliminate themselves or become clearer to you. Additionally, the differing product make ups will likely become a more obvious choice for your installation. For example, if one product has an all PVC make-up and is prone to a fair amount of expansion and contraction but is impervious to moisture, it may be ideal for an installation on the north side of a home in the north woods where there is almost no direct sun but lots of leaves and pine needles. This particular type of composite product cleans easy and is very stain resistant. The main thing to remember is that no matter which you choose, always be sure to know the products characteristics and to follow the manufactures installation guidelines and care instructions.
In answering the question; is composite decking the "King of Decking"? I believe that the answer is unequivocally yes. Do to the many varying installation differences and conditions, one might be inclined to say that there is a near perfect composite offering for every need and situation.