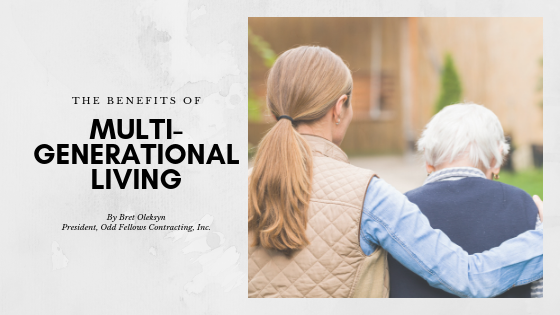 Our society has always placed a debt of gratitude on our parents for all that they have sacrificed while raising us.  While growing up, I know my parents put up with more than their share of messes, inconveniences, and sleepless nights, not to mention some of the financial hardships that us kids occasionally brought home.
For many reasons, there are sensible ways of considering giving back to our parents and many means in which to do so.  In recent years, I have had the privilege of consulting with many who were considering bringing Mom and/or Dad, into their homes, or moving into the old family home with their new family.  The obvious challenge here is that usually neither home is currently adequate to accommodate adding additional family members.  That is where a good designer/remodeler can help.  Finding the right way to add to your home and accommodate the needs and wants of both sets of families is an important task.  Having professional help to tackle those challenges can take a lot of the stress off of your shoulders as you move forward with this change in your life and lifestyle.
Some of the considerations that need to be accounted for are the zoning and ordinance requirements of the home that is to be remodeled.  Although some restrictions can apply, it is usually possible to create additional living space onto one of the existing homes that will suitably accommodate both families.
Another factor to consider is the value of the potential savings.  The cost of assisted living can be very high.  Yes, I know that some of them have trained medical personnel on staff and that can be very helpful or required in a time of need.  Some assisted living however can equate to a small apartment with food, laundry, and cleaning services provided.  Although this may be the required situation for many families, the option to combine homes can create great opportunities for saving money.
When considering the cost of renting an apartment at a senior's center, it doesn't take long to justify expending some investment capital into a family home for this purpose.  In only about a year or two, the improvements are paid off and the remainder of our time with the folks is savings and money ahead, not to mention the added equity in a larger or updated home which will remain in one of the family's estates.  Over time, much of the investment cost can be recouped in the resale value of the home.
In the 30 plus years of my career, I have noticed a trend here and there.  Some stayed awhile and some were fads, but none are as noble and long lasting as the adding on or re-purposing of an adult child's or existing parent's home in order to accommodate Mom and/or Dad.