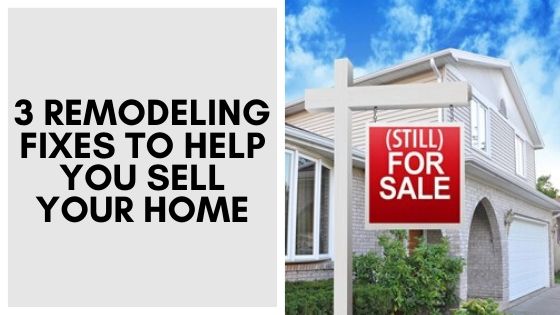 Making your home attractive to prospective buyers is a great reason to consider remodeling. Many of us get so used to our homes, as they are, that we don't see the imperfections a potential buyer might see. Here's a look at some more simple things that you might not see that can keep prospects from buying your home:

1. Popcorn Ceilings:
You may not spend a lot of time staring up at your ceilings, but a prospective buyer will notice this kind of ceiling right away. It makes your house look dated. And because it's virtually impossible to clean, it contributes to making your home look dirty.

2. Dated Carpet: Many buyers expect hardwood floors these days. A lot of people still like carpet in their bedrooms, but if the first thing a potential buyer sees is wall-to-wall carpet in the family room and living room, it can be a turn-off. Hardwood flooring also makes the space look bigger. Another less expensive alternative is the new LVT (Luxury Vinyl Tile) flooring. It can give the appearance of a hardwood without all of the cost.

3. Seriously Outdated Bathrooms: Acrylic (fake crystal) knobs on your bathroom sink can look dated and dingy. The strip of bare, round lights above the medicine cabinet is another obvious giveaway that the bathroom hasn't been touched since the 1970's! If you have a sink that's cracked and/or discolored – it's simply not attractive and can lead to questions of what else may be worn down in the home.

All three of these things are fairly simple, straightforward remodeling projects that just might be what you need to get people to take a second look at your home. And even if you're not selling, these projects will make your existing home more comfortable and enjoyable. The winter months are a great time to get some of these projects done if you are considering selling in the spring. If you want a more expansive remodel, we can help with those projects, call us today to set up an in-home consultation and discover the possibilities.
Check out the Remodelers Magazines Cost vs. Value report to see typical immediate return on investments for large remodel projects. The wonderful thing is that the value increases over time!