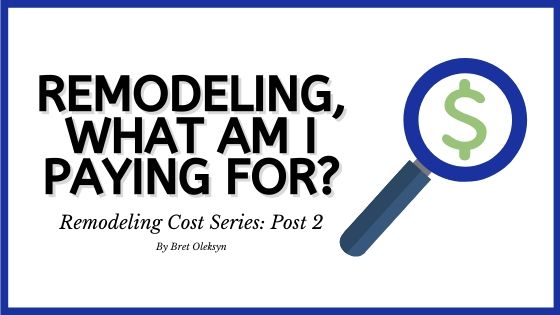 Start With the End in Mind
The following blogs will reference the majority (hundreds) of projects that we have performed over our 31 years of remodeling. The referenced projects require some form of design help, material selection, multiple trades, scheduling, oversight, and management. If you haven't read Part 1 yet, give it a read as part of this Remodeling Cost Series.
Every project starts with an idea. The desired result becomes the goal. There is a picture that you have in mind of how you want your kitchen remodel to look when it is all done. If you are planning to remodel your bathroom, you have an idea for the finished result.
Properly transferring the finished image and ideas from your mind to the remodeling group's mind is the beginning of the remodeling process. A well thought out process is crucial to get a customer's project from their mind to completion. For ultimate success, the process needs to be both well-defined and simplistic.
We will take you step by step through that process as we post the next series of blogs.
Moving Forward
From the Contractors view, once it has been established that our team is your remodeling contractor choice, we begin a sort of "mind meld" process known as a "Discovery". Our Discovery appointment is a process of learning and capturing all pertinent necessary information. The information is used to make decisions regarding design, quantity, size, options, etc., for the project.
In the discovery, the team will record specific descriptions, answers, thoughts, parameters, tastes, likes, and dislikes. The team will continue the discovery process by photographing all areas and taking written notes of pertinent information.
This Discovery process can often take 2-4 hours. Following the in-home Discovery, the process continues with the Design and Estimating Phase. This portion of the project is required to compile all the pertinent information to then create a design within the hopeful investment range.
The team begins by entering the information into the design and estimating programs to create the design drawings and an estimate outline. Depending on the project size and scope, the design and estimating phase accounts for roughly 3-6% of the total project cost.
Project Impact
Although this pre-planning phase does add initial cost, it is a very risky (and possibly very costly) to assume that all of the goals and project desires will be correctly addressed during the project as they arise. The idiom "Measure twice, cut once." is very relevant in a remodel. Even if you are a do it yourselfer, you will save yourself grief, delay, and added costs if you follow the upcoming blogs.