We keep our pricing very simple.  Our goal is to be as transparent as possible to avoid any confusion so that you know what to expect.  We want all of our customers to take cost confusion out of the equation so that they can focus on getting their small projects and accomplished in their homes.
During our free consultation or over the phone, we are available to discuss your project and give ideas on expected hours, materials, and pricing to complete the work.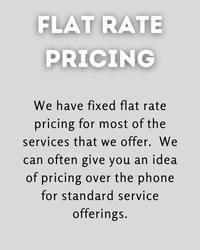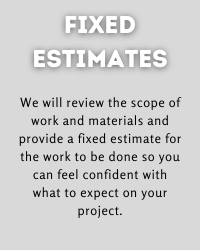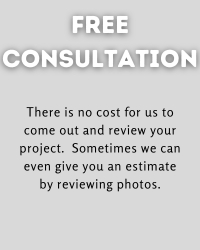 Frequently Asked Questions
Question:  Is there a cost for the consultation?
Answer:  Many jobs require a site visit to review and determine the scope of work and materials required to create an estimate.  There is not a cost for us to come and review your project.  Often we will request photos of the space and we can provide an estimate based on the photos as well.
Question:  What if I purchase the materials, will there still be a markup on materials?
Answer:  No, we only markup materials by 30% if we are asked to source and provide the materials.  We encourage our customers to source their own materials for us to show up and install or use.  If we source the materials, we often get good pricing through our trade partners that helps offset the material markup.
Question:  What if I don't know what materials to use?
Answer:  We are available to provide resources for you to source materials and have options for some materials to use that we can source as well.  It is typically only best for us to source materials when they are with established vendors that we use on a regular basis.
Question:  When do I pay for the work?
Answer:  If we need to source special order materials, we will charge 50% and then order all materials and schedule the job.  The final 50% is due upon completion of the work.
Question:  If my project is done on an hourly basis, what if the technician works for a partial hour, am I charged for the full hour?
Answer:  Some jobs are not able to be estimated with a fixed cost.  It is not common, but sometimes we need to provide a rough guess of the cost of the work and then charge on an hourly basis.  If this is the case, each hour after is billed in 15 minute increments.
Question:  While the technician is out at my home, can I request them to do extra work?
Answer:  Of course! If their schedule is available for them to do more work, you can request them to stay longer to perform any work that is part of our list of services.  Please note that not all technicians are necessarily skilled at all service options and may not come prepared with all tools for extra work that was not originally discussed.
Question:  What if I am not happy with the work being done?
Answer:  In the event that this were to happen, you can ask the technician on site to stop their work and we would want you to call us to discuss so that we can come to a resolution.  We take your satisfaction very seriously and would want to understand your concerns so that we can address those concerns.
Question:  Will Odd Jobs be able to provide me a written quote or estimate?
Answer:  Yes!  Most of our service offerings are able to be done with a written estimate.  We will be able to discuss expected hours required prior to the work being done and will communicate with you during the work to help you understand what is being done.
Question:  What happens if the product that I order doesn't work for the space or cannot be installed?
Answer:  We understand that this can happen and it is very unfortunate if materials cannot be installed as intended.  If we arrive to install materials that you purchased and they are not able to be installed due to not fitting, being broken, etc. we charge for the first hour as a trip charge.  Because of this, we recommend opening any packaging and verifying that they will work prior to scheduling us to come and install.  While we are there we are happy to help troubleshoot and discuss what may be needed for a return trip to install once the correct product is on site.
Question:  What if more than one technician is required for my hourly rate job?
Answer:  Many projects requiere a second set of hands.  Each project will be estimated accordingly.